---
Navigational Aids (NAVAIDS) and Air Traffic Control (ATC)
Introduction to Radio Facilities supporting Flight of Air Crafts

---
 Above the Ibaraki prefecture of Japan where Tsukuba Science city is located, Some air routes are assigned and used for deparute and arrival for Tokyo International Airport (Haneda/HND/RJTT) and New Tokyo Inter National Airport(Narita/NRT/RJAA). To support aircrafts fling on these route, there are several Navigational Aids in the prefecture.
Following pages are intened to provide introductory information for such Navigational Aids including their photography.
Comments on the page are welcome. ( nagase@mxw.meshnet.or.jp )
Most pages are written in Japanese only.
---
NOTAM :-)
Dec 30 1997
Navaids allocation and obsolation
 Kamiiso NDB will no longer be available since 29 Jan 1998. T-DME will added to Hakodate ILS from the date.
 Niijima VORTAC will be availble on use from 26 Feb 1998. Niijima VOR and Niijima TACAN will also added to the list of compulsory reporting point.
 

Niijima VOR
N34 21 E139 16
Mukaiyama Niijima vill., Tokyo
116.5MHz
200W
NJC
Niijima TACAN
N34 21 E139 17
Mukaiyama Niijima Vill., Tokyo
1199MHz
3kW
NJC

Hachijyojima NDB will temporally closed from 29 Jan 1998 to 25 Mar 1998.
SID will be changed
New SIDs will be published on the amendament of AIP issued on Jan. 1998, an authority said.

---
Radio Navigational Aids
ILS
Misc. Info.
---
Air Routes and Navigational Aids in Ibaraki Pref.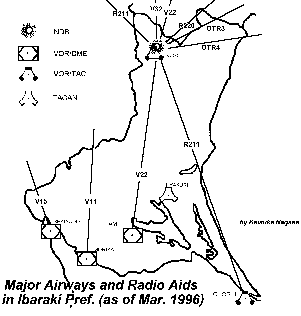 Name
Type of Navaids
Location
Coordination
ID
Frequency
AMI
VOR/DME
Ami, Inashiki gun, Ibaraki
(N36 01' E140 13')
TLE
116.0MHz/1194MHz
MORIYA
VOR/DME
Moriya machi, Kitasouma gun, Ibaraki
(N35 56' E139 59')
SNE
114.0MHz/1174MHz
HYAKURI
TACAN
Ogawa machi, Higashi Ibaraki Gun, Ibaraki
(N35 11' E140 25')
HUT
1167MHz
DAIGO
NDB
Daigo machi, Kuji gun, Ibaraki
(N36 46' E140 23')
GO
221KHz
DAIGO
VOR/DME
Daigo machi, Kuji gun, Ibaraki
(N36 44' E140 21')
GOC
115.3MHz/1187MHz
SEKIYADO
VOR/DME
Sekiyado machi, Higashi Katsushika gun,Chiba
(N36 00' E139 51')
SYE
117.0MHz/1204MHz
KUZUMI
NDB
Narita city, Chiba
(N35 50' E140 20')
KF
342KHz
AMI
NDB
Ami machi, Inashiki gun,Ibaraki
(N36 01' E140 12')
TL
350KHz
abolished
 You might be interinsting if you compare such facilities to same facilities in U.S.A.
Thanks to KIMERA@Nifty-Serve,Here I offer information of Navaids in Kinki Dist. including KIX/RJBB.
Advanture of Kimera to the NAVAIDS
---
Air Traffic Control
ATC Frequency
ATC Radio Facilities on the Ground
Airport Information
---
Links to related information
Bird Eye Photograph (Including VOR photograph from the air)
Airport
Airlines
Other information
Federal Aviation Administration(FAA)
Pointers to pointers
---
You may make link to this page.
(Why such pages are published? Yes, here you get the answer .)

(C) Keisuke Nagase, 1996,1997,1998. All Rights Reserved.
Access: